Shimonoseki \ the Historical City of Straits
The year 2005 was a historical juncture to celebrate the 820th anniversary since the battle of Dannoura between the Minamoto and Taira clans (a classic example of one of the Genpei Wars). Shimonoseki City, since the NHK period drama gYoshitsuneh hit the screens, has been popularized as a city with many historical sites related to the Genpei. We are trying to take advantage of this opportunity by actively promoting our City throughout Japan as a popular tourist spot.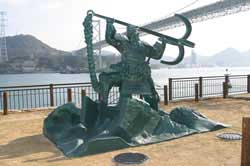 Mimosuso-Gawa Park
In Mimosuso-Gawa Park, looking towards the Kanmon Straits, you can see statues of Minamoto no Yoshitsune and Taira no Tomomori as well as a replica of the Choshu-gun, which was used in the bombardment of Shimonoseki.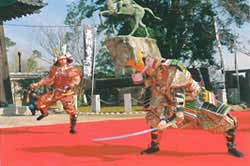 Short play gYoshitsune Hasso-tobih
This short play reproduces Yoshitsunefs performance in the last battle of the Genpei wars, gThe battle of Dannourah. You will see dynamic performances of citizen volunteers playing historical people such as Minamoto no Yoshitsune, Taira no Tomomori and Taira no Noritsune.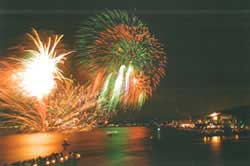 Kaikyo Fireworks Festival
Approximately 13 thousand gorgeous fireworks will be displayed from the both sides of the water illuminating the beautiful night view of the Kanmon Straits, and making the summer darkness more dramatic.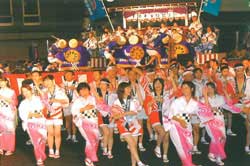 Bakan Festival
The Bakan Festival, involving songs, dances and night markets, is a festival for residents throughout the City. Various events are held focusing on Heike dance at special sites set up in many places within the City.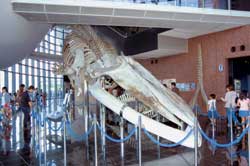 Shimonoseki Marine Science Museum gKaikyokanh
Approximately 20 thousand fish and marine creatures are displayed from 500 different species. There is a huge tank which replicates the tide of the Kanmon Straits. Various types of fugu, or blowfish, are also displayed. There are also skeletal displays of the blue whale, the largest such skeleton in Japan.