Industrial promotion by making use of regional features
Since the merger the new Shimonoseki City has become a more attractive city focusing more on agricultural and its fishing industries. We are endeavoring to attract key companies and promote industrial development so as to vitalize the regional economy and local industries.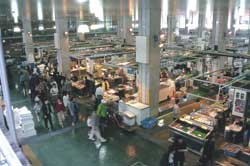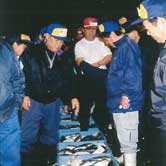 Karato Market
Karato Market is located near the Shimonoseki Marine Science Museum "Kaikyokan". Anyone can freely purchase fresh fish and agricultural products. On weekends the market operators open restaurants, which are very popular with citizens and tourists.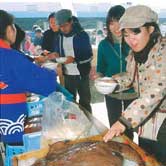 Abundant fishery resources
Blowfish and anglerfish
Shimonoseki City has the largest trading volume of blowfish and the largest catches of anglerfish. We have targeted the excellent goods and services of Shimonoseki including agricultural and marine products under the Shimonoseki brand.
Whale and sea urchin
Shimonoseki once flourished as a place to land frozen whale meat caught in Antarctic Ocean, operating as a production base for the processing of food derived from whale and as a base for whale catcher boats. The City is now a base for scientific whaling and so still has a close relationship with the whale.
Mutsurejima Island about 8 kilometers north-west off Shimonoseki City is the origin of the jars of pickled sea urchin. Shimonoseki has also a deep and long relationship with the sea urchin.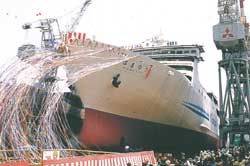 Shipyard
World class ships such as luxury ferries and specially commissioned ships are constructed by making use of state-of-the-art technology. To further utilize such technology a plant to make main wings of airplanes is under construction.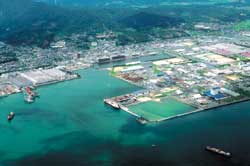 Industrial complex
Within Shimonoseki City, there are industrial complexes such as the Chofuogimachi Industrial Complex, the Koyagawa Industrial Complex and the Toyohigasi Industrial Complex as well as the Haedomari Marine Product Processing Complex. We have in place a preferential treatment system to encourage firms to locate in the area.